Band für Firmenfeier & Event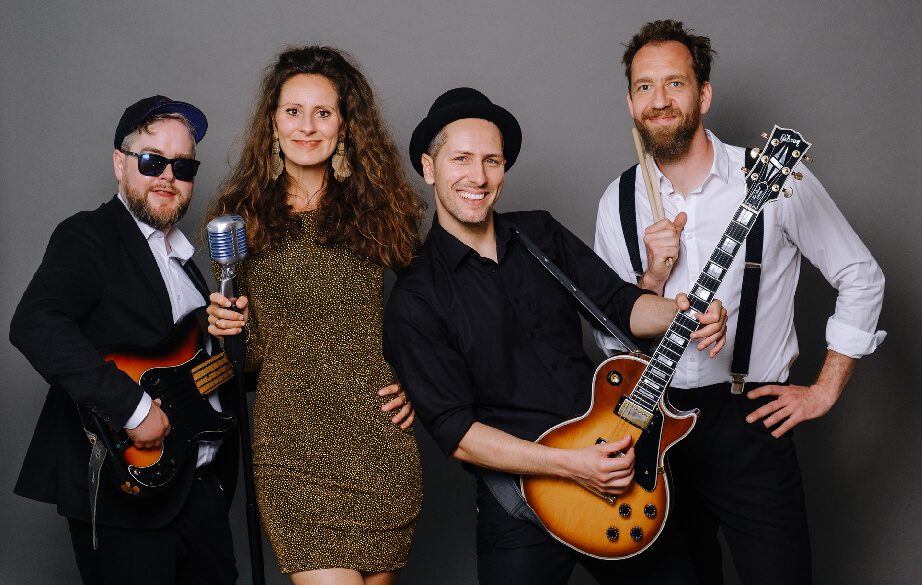 Hauptact
oder Hintergrund-Musik?
Hauptact
Für Veranstaltungen bei denen Musik als Hauptact fungiert, bietet sich wiederum die Chameleon Band mit Sängerin an. Weltbekannte Jazz Klassiker und beliebte Hits von u.a. AC/DC, Coldplay und Blink182 erklingen im Swing, Samba oder Bossa Nova-Gewand und sorgen so für erstklassige Abendunterhaltung. Mit Klasse, Charme und Spielfreude verwandelt die Band jedes Event in einen glamourösen Abend.

Hintergrundmusik
Für Veranstaltungen, bei denen die Gäste sich unterhalten, und so schon für eine gewisse Grundlautstärke sorgen (z.B. Networking Events), empfiehlt es sich auf hintergründige Livemusik ohne Gesang zu setzen.
Mit dem instrumentalen Jazz Trio trifft man hier eine exzellente Wahl. Swing, Blues, Latin Rhythmen und ein samtweicher Jazzgitarrenton sorgen für eine elegante, niveauvolle und angenehme Atmosphäre. Jazz Klassiker wie "Take five", "Tequila, "Fly me to the moon" werden mit beliebten Film- und Serienmelodien wie "James Bond", "Pink Panther" und "Star Wars" gemixt.

Bei Firmenevents mit Partycharakter eignet sich die Partyband Besetzung.
Für kleine Firmenfeiern bietet sich das Chameleon Duo an.

Extra Wünsche? Wie wäre es mit …
zusätzl. Saxophonist/in
ein Programm mit Melodien der 20'er Jahre
[zoomsounds_player artistname="Jazz Trio" songname="Medley" type="detect" source="https://chameleonjazz.de/mp3/trio-medley.mp3″ config="default" autoplay="off" loop="off" open_in_ultibox="off" enable_likes="off" enable_views="off" play_in_footer_player="off" enable_download_button="off" download_custom_link_enable="off"]
[zoomsounds_player artistname="Hauptact" songname="Medley" type="detect" source="https://chameleonjazz.de/mp3/band-medley.mp3″ config="default" autoplay="off" loop="off" open_in_ultibox="off" enable_likes="off" enable_views="off" play_in_footer_player="off" enable_download_button="off" download_custom_link_enable="off"]
PopJazz
Jazz Klassiker
Tanzmusik
TV & Film Melodien (instr.)
Jazz Standards (instr.)
PopJazz
| Blackbird | Paul McCartney/ The Beatles | Pop Jazz |
| --- | --- | --- |
| Boys don`t cry | The Cure | Pop Jazz |
| Crazy in love/ Single Ladies | Beyonce | Pop Jazz |
| Don't know why | Norah Jones | Pop Jazz |
| Don't stop believin | Journey | Pop Jazz |
| Feeling this | Blink 182 | Pop Jazz |
| Get lucky | Daft Punk+ Pharrell Williams | Pop Jazz |
| Happy | Pharrell Williams | Pop Jazz |
| Here comes the sun | The Beatles | Pop Jazz |
| Highway to hell | AC/DC | Pop Jazz |
| I can't help falling in love | Elvis Presley | Pop Jazz |
| Livin' on a prayer | Bon Jovi | Pop Jazz |
| Lovefool | The Cardigans | Pop Jazz |
| Material Girl | Madonna | Pop Jazz |
| My love is your love | Whitney Houston | Pop Jazz |
| Should I stay or should I go | The Clash | Pop Jazz |
| Song2 | Blur | Pop Jazz |
| Teenage kicks | Nouvelle Vague | Pop Jazz |
| Teenager in love | Dion And The Belmonts/ Red Hot Chili Peppers | Pop Jazz |
| Thriller | Michael Jackson | Pop Jazz |
| Time after time | Cindy Lauper | Pop Jazz |
| Umbrella | Rihanna | Pop Jazz |
| What's my age again | Blink 182 | Pop Jazz |
| Where is my mind | The Pixies | Pop Jazz |
| Yellow | Coldplay | Pop Jazz |
Jazz Klassiker
Tanzmusik
TV & Film Melodien (instr.)
Jazz Standards (instr.)








Referenzen & Kundenbewertungen